Also known as Heptapegon, el-Oreme, En Sheva, 'En Sheva, et-Tabgha.
Tabgha (Eyn Sava'), a town situated on the northern shore of the Sea of Galilee in Israel, is the traditional site of the miracle of the multiplication of the loaves and fishes, Mark 6:30-46. Its name is derived from the Greek name Heptapegon ("seven springs"). St. Jerome referred to Tabgha as "the solitude".
The earliest building at Tabgha was a small chapel built in the 4th century AD. This was probably the shrine described by the pilgrim Egeria at the end of the 4th century:
"In the same place (not far from Capernaum) facing the Sea of Galilee is a well watered land in which lush grasses grow, with numerous trees and palms. Nearby are seven springs which provide abundant water. In this fruitful garden Jesus fed five thousand people with five loaves of bread and two fish."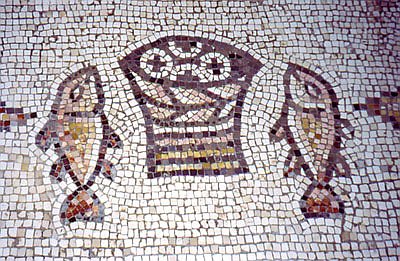 Mosaic of the loaves and fishes, Tabgha
excerpts, above, from wikipedia.org
Tradition says that Jesus walked the shore at Tabgha and that it was here he called Simon Peter and Andrew (Mk 1:16-17)
And as He walked by the Sea of Galilee, He saw Simon and Andrew his brother casting a net into the sea; for they were fishermen. Then Jesus said to them, "Follow Me, and I will make you become fishers of men." NKJV Mk 1:16-17
A little further along the shore, Jesus saw James and John, the sons of Zebedee and likewise called them.
Photos courtesy of BiblePlaces.com